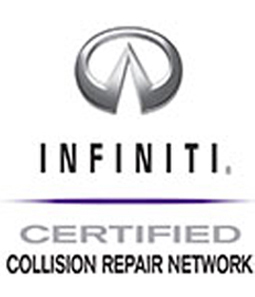 At Mahnke Auto Body, we have a team of certified Infiniti Auto Body Repair technicians ready to give you a hassle free and fair quote. Not only that, we make sure you get Genuine Original Equipment parts so that your Infiniti continues to get the intended level of safety and performance that it had before your accident. We understand that while repairing your car is an unexpected expense, we want you to know that we are here to provide peace of mind by ensuring your warranty is still in effect by our use of OEM parts and by being a certified collision repair center for Infiniti.
If you need a quote on your windshield, paint, bumper, glass, fenders, collision, dent, hail, frame or something else. Click the button below to start the automated quote process for your Infiniti Auto Body Repair!

Did you know that Infiniti has a listing of certified collision repair specialists? And, that's right, Mahnke Auto Body is one of them. You can even visit our page for verification right here! And just like all great car manufacturers, Infiniti has a resource for your Infiniti Auto Body Repair. It's only eight pages but it tells you all the facts you need to know about collision repair and why it is important to take care of your mechanical problems as soon as possible.
Lastly, we always like to provide a reference to commonly asked questions that we have experienced during our time in business. This page covers estimates, frame damage, insurance, paint, paintless dent repair and our parts policy. Be sure to check out our FAQ's page!
If you have any questions, you are also welcome to visit one of our seven locations or call one of the shops closest to where you live to speak to an expert technician over the phone.