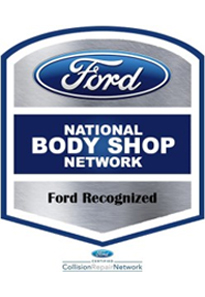 Ford is one of the most iconic names in automobiles and it's our honor to be a nationally recognized Ford Auto Body Repair shop. Mahnke has seven locations around the Denver Metro area so that when you are looking for a Ford certified collision center, you can trust your vehicle with us. We always make sure to start with Ford parts so that you maintain your warranty and can trust that a certified OEM part is repaired not repaired with a generic replacement. We know that it's important to you to make sure your vehicle runs as best as possible when you get it back, and that is why we provide complete transparency on the part we are repairing for you.
If you need a quote on your windshield, paint, bumper, glass, fenders, collision, dent, hail, frame or something else. Click the button below to start the automated quote process for your Ford Auto Body Repair!

Did you know that Ford has a collision website to help you stay informed on what you should know when it comes to collision repair? If you have any questions, be sure to visit their website and learn more. We care about making sure we keep your vehicle in compliance with Ford and that is why we provide these resources to you!
Lastly, we always like to provide a reference to commonly asked questions that we have experienced during our time in business. This page covers estimates, frame damage, insurance, paint, paintless dent repair and our parts policy. Be sure to check out our FAQ's page!
If you have any questions, you are also welcome to visit one of our seven locations or call one of the shops closest to where you live to speak to an expert technician over the phone.